4K HDMI 1X2 SPLITTER WITH EDID 【Model :JC-ES102HE】
4K HDMI 1X2 SPLITTER WITH EDID
Model NO. : JC-ES102HE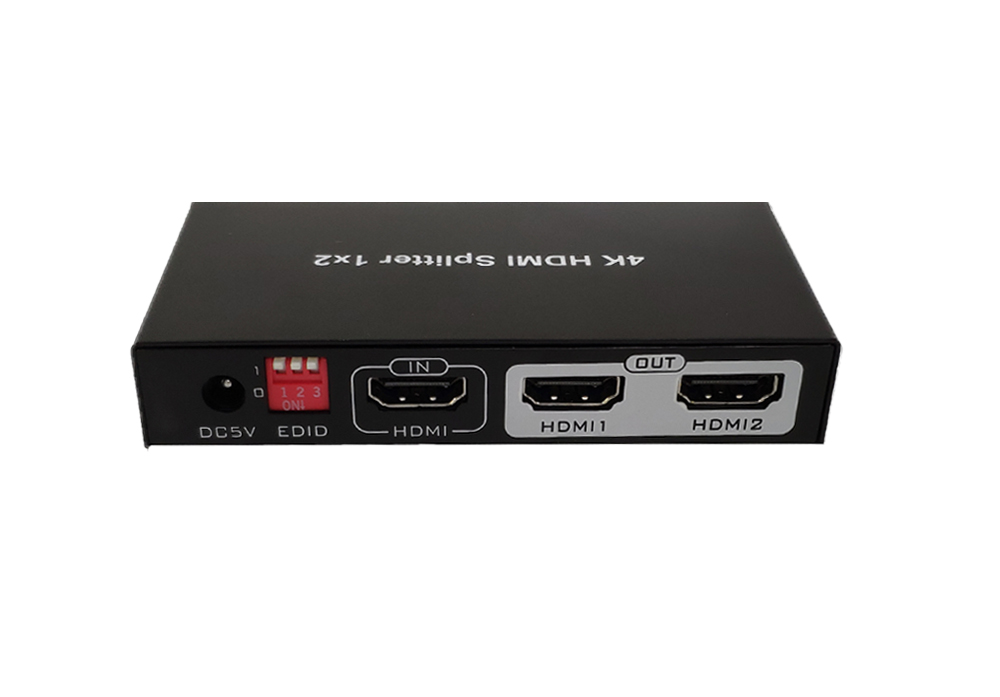 1. MAIN FEATURES
1 HDMI input signal split to 2 HDMI sink devices.

3D HDMI 1.4a video format support.HDCP 1.4 protocol compliant.

Support EDID function, 8 management modes, strong compatibility.

3D video support including frame packing for all 3D formats up to a 297MHz TMDS clock.

Support display resolutions up to 4K x 2K@30Hz, 1080P@120Hz,and 1080P 3D@60Hz

Support deep color 30bit, 36bit, 48bit per pixel.

Digital audio format, as DTS-HD/Dolby-true-HD/LPCM 7.1/DTS/Dolby-AC3/DSD.
2. ADVANTAGE
3.PANEL

4, SPECIFICATION
Video

Protocol

HDMI 1.4; HDCP 1.4

HDMI Pixel bandwidth

225MHz

HDMI Interface bandwidth

Total bandwidth 10.2Gbps

Highest Resolution

3840*2160@30Hz;4K@60hz (4:2:0)

Connector

HDMI-A

HDMI Interface impedance

100Ω

HDMI cables

1920X1080@60Hz ≤ 5 meters

Others

Power supply

DC 5V

Power consumption

MAX 3W

Operating Temperature

-5℃ ~ +70℃

Relative Humidity

5% ~ 90%

Size

108*55*19mm

Warranty

1 year warranty
5, APPLICATION